The average Australian household produces 1.5 tonnes of waste each year. With this figure increasing at a much faster rate than population growth, we are preparing our future generations for a major environmental disaster.

Like many councils, waste management has become one of the City of Tea Tree Gully's most wasteful areas of expenditure — with residents' incorrect recycling habits proving increasingly costly to remedy. We were challenged to deliver one of the organisation's largest ever waste education initiatives.
A monster task, you could say.

In this case study
Print
Advertising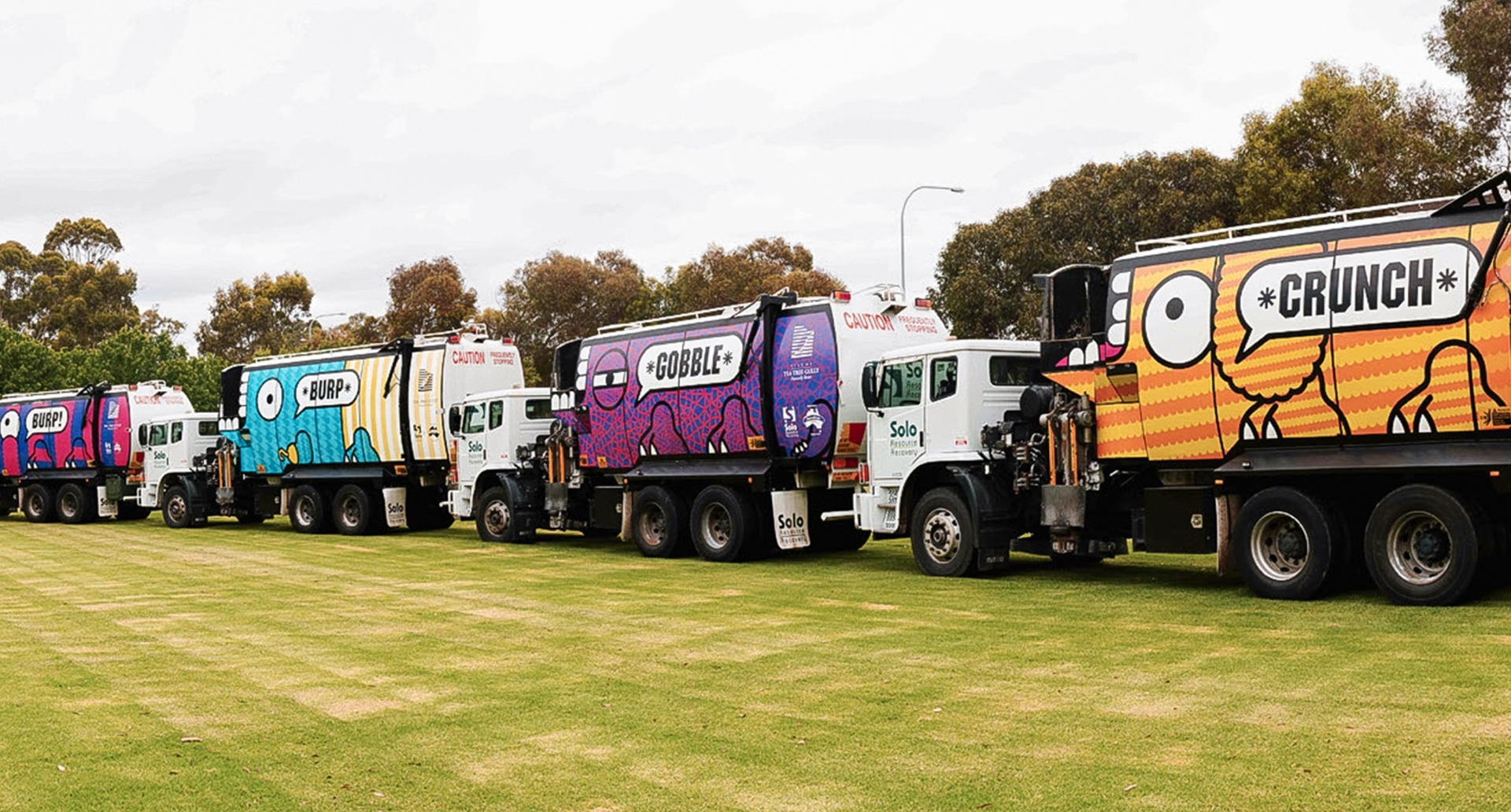 In conducting research for the project, we observed the excitement children felt about rubbish trucks; how some even went as far as to wait outside for trucks to pass by each week, just so they could wave. Some children would even call out, often not to the drivers, but to the trucks themselves.
Building on this childhood fantasy of trucks as livings things, rather than vehicles, we developed a strategy to bring this to life by reimagining trucks as "Monster Trucks" and rubbish as their food.
The City of Tea Tree Gully's entire fleet of rubbish trucks was activated to resemble colourful, cartoonish creatures. Each of the twelve "Monster Trucks" were given their own individual design; slimy, furry, scaly, spotty – even a pirate – with each appearing to empty residents' bins into its giant, tooth-filled mouth, making children more excited than ever to learn about waste.
A neatly integrated campaign
To coincide with the "Monster Trucks" hitting the streets, we implemented an integrated campaign extending on the theme, including outdoor media, sticker sheets to be applied to household bins, "Mini Muncher" benchtop compost bins, waste calendars, fridge magnets and digital content and initiatives to build on the "Monster Trucks" platform and educate households about their role in waste management.

Since hitting the streets, there's been an undeniable increase in the community's engagement levels around waste, as well as improvements to community satisfaction relating to waste management (now 91%).
Council has received extensive positive feedback from its community across each of its inbound channels, with one child recently sharing the story of his "Monster Truck" birthday cake. The organisation's recent "Touch a Truck" demonstration day, allowing the community to see the "Monster Trucks" up close, was attended to capacity and over 1,000 "Mini Muncher" benchtop compost bins have been delivered to households on request, bringing an important waste initiative into homes.
Most importantly, a strong, flexible foundation has been provided for the continued delivery of waste management education programs working towards Council's long-term aim of reducing waste within the City of Tea Tree Gully.
This project was recognised in the "Design for Good" category of the 2018 AGDA Design Awards.